AOY 2016 for the bass series
Congratulations to Mitch Salzman who is the 2016 CKFC Bass AOY!
31 kayak anglers competed in 2016 via the CKFC Bass tournament circuit to see who would be crowned with the Angler of the Year (AOY) title. Three bass only tournaments were held on different bodies of water spanning different times of the year, forcing anglers to adapt to different conditions and environments. A cumulative point system was used in each event, summing points in all 3 tournaments. Missing one event or not performing well in a single event pretty much guaranteed that an angler would not make the top 5.
The top 5 anglers in the AOY race have secured a spot at the Yak4it Tournament of Champions on Lake Fork Texas in early November.
Rounding out the top 5 are Thomas McChesney Jr, Chad Simcox, Jason Duong and Kenny Hood. Congratulations to these 5 anglers for their hard won placement.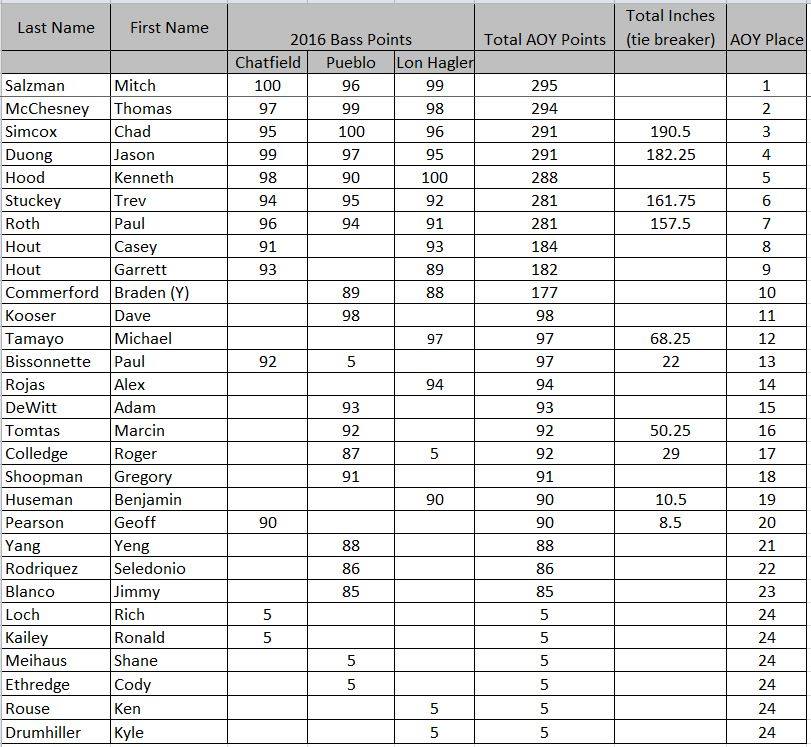 aoy 2016 for the Multi-species series
The 2016 Colorado Kayak Fishing Club Angler of the Year for the multispecies division is Alex Rojas.
Going into the last multispecies tournament of the 2016 season, I had indicated that "…we will use the highest scoring 3 of 5 tourney finishes to determine the top 5." and "Anyone that has fished in a least two events and placed has a shot at the top 5." Little did I know how prophetic the last sentence in my quote would become. Prior to the Granby tournament Roger Colledge, Mitch Salzman and Droptine Trev (Trev Stuckey) sat at 1st, 2nd and 3rd respectively. Closely behind were a host of anglers who could move into the top 5, probably none of which thought they could lead-frog the top 3. Enter Alex Rojas who fished his first kayak tournament last year and finished 32nd in the 2015 AOY race. Although somewhat new to the competitive fishing scene, Alex is a sponge for information, tossing out what does not work and capitalizing on what does work.
Roger Colledge and Mitch Salzman tied for second (in points) but Roger wins out on total inches…taking second. Third place then goes to Mitch. Trev Stuckey takes 4th followed by Ronald Southworth in 5th. These 5 anglers have earned a slot in the Yak4it Tournament of Champions which will be held at Lake Fork Texas November 5th and 6th.